Shiurim of Harav Shamshon Rephael Weiss ztz'l

Please take advantage of these shiurim of Harav Shamshon Rephael Weiss ztz'l, which were given in his later years in Yeshivas Aish Hatorah, and in The Israel Center of the OU in Yerushalayim. The quality of a few recordings might be poor, but for the most part they are clear.
Please look below for a short biographical sketch.

---
Shemos With Ramban Beshalach-Yisro-Matan Torah (28 Shiurim)

Shemoneh Perakim (15 Shiurim)

Yomim Tovim Yomim Noraim-Teshuva-Chanukah-Tu Beshvat-Purim-Haggadah-TishaBav (20 Shiurim)


Rambam 13 Principles
(20 Shiurim)

Sefer Hachinuch (21 Shiurim)

Core Concepts of Jewish Thought Creation-Free Will-Image, Unity, Love, of G-d-Torah (20 Shiurim)

Mesilas Yeshorim
(35 Shiurim)

Six Constant Mitzvos (14 Shiurim)

Shonos Derech Hashem-Ohel Moed-Rambam Hilchos Teshuvah-Shir Hashirim-Tefilah (20 Shiurim)

---
MACHSHEVES SHAMSHON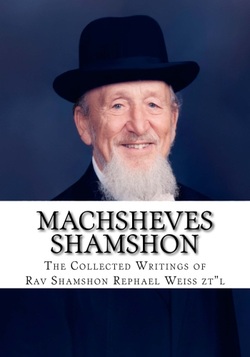 B'ezras Hashem, We are pleased to announce to all who appreciate the unique machashava style of Harav Weiss, that we have put together all his writings and published it as a book. The book consists of 8 sections. It begins with a short biography of his life, memoirs that he wrote himself, and those of a close talmid. The next section is a translation of most of the first shaar of Nefesh Hachaim, replete with footnotes and insights that allow the material to be understood, and show his mastery of the topic. Then there is a section that contains hashkafa essays written for the Jewish Life Magazine in the late 40's and early 50's. Many of the ideas written there, he spoke about as well in his shiurim. The next four sections are the articles, addresses, book reviews, and presentations that he wrote over the years. The final section has his tzavaah, various letters written about him by gedolim, and a collection of stories about gedolim that were witnessed by him. The book can be purchased below, or the main two sections of the book can be printed or copied for free.
---
Click below to view print or copy the translation to Nefesh Hachaim 142 pgs

Machsheves Shamshon 450 pages

$9.99 (Shipping in USA included)



Click below to view print or copy the 30 hashkafa essays 85 pages
---
BIOGRAPHICAL SKETCH
-------------------------------------------------------------------------------------------------------------------------------------------------------
Harav Shamshon Rephael Weiss was born in 1910 in Emden Germany, to Rav Ahron and Yehudis Weiss. His mother was the daughter of Harav Hagaon Rav Yitzchak Schweiger, Av Bais Din of Tapolshin. Rav Weiss' father was his primary Rebbe, who taught him and his brother Harav Binyomin Zev Weiss, later the Rav of Zurich, from Aleph Bais until Gemara and Tosafos. At the age of 19 Rav Weiss travelled to Mir where he remained for five years. It was there that his exceptional Torah personality developed. During his years in the Mir, Rav Weiss began his lifelong relationship with the Rosh Yeshiva Harav Eliezer Yehuda Finkel zt'l, being considered one of the Rosh Yeshiva's closest talmidim and confidants. Rav Shimon Schwab zt'l told the family that the Rosh Yeshiva said that "the whole burden and responsibility of Yeshivas Mir is all worth it to produce one talmid like Shamshon Rephael". He was also extremely close to the Mashgiach, Harav Yeruchem Levovitz zt'l, whose Hashkafa and Mussar proved to be the seminal influence on Rav Weiss' own thinking.

In 1934 Rav Weiss accepted the position as Seminar Rabbiner at the Wurzburg Jewish Teachers Seminary. Many of the students there came from assimilated backgrounds, but within a short time a good percentage became Baalei Teshuva. His influence was such that after graduation a number of his students enrolled in Yeshivas Mir instead of taking up teaching positions.

In 1936 Harav Weiss married Leah Carlebach, daughter of one of Germany's most distinguished Jewish families. Together they immigrated to the United States in 1939 where Rav Weiss held some of the most important leadership positions in the American Orthodox world: one of the founding presidents of Torah Umesorah, Executive Director of the Young Israel movement, and Executive Vice President of the Union of Orthodox Congregations. In these capacities he worked closely with the Gedolei Yisrael, amongst them Hagaon Harav Aharon Kotler zt'l.

Harav Weiss considered himself first and foremost a talmid of Yeshivas Mir his whole life. Indeed he instructed that "Talmid of Yeshivas Mir" should be the only accolade inscribed on his Matzeivah. His whole life he worked tirelessly for the yeshiva, and was the president of the American Mirrer Association. He was Rav Eliezer Yehuda Finkel's right hand man, and hosted him in his house for a few months during his visit to America. In 1972 Harav Weiss retired from his leadership positions, and moved to Eretz Yisroel to again become a talmid in his beloved Yeshivas Mir. It was during this time period that he taught the shiurim available here, to Talmidim of Yeshiva Aish Hatorah and the Israel Center.

Besides his many talents, and the numerous activities for the sake of Torah and Chesed that Rav Weiss was involved with in his fruitful life, his most striking gift was oratory. Whenever Rav Weiss was in a room, his presence filled the room, but when he spoke, the experience was overwhelming, and the atmosphere that he created was almost tangible. Although English was not his native language, he had a total command of the language, and was extremely gifted in using it to express the depth and breadth of his thoughts. He was a yachid b'doro in his grasp of Machshava and Hashkafa, and was able to give it over to his audiences with tremendous depth, clarity and delicate nuance.

Unfortunately since his passing in 1990, almost a generation has not had the opportunity to hear this great speaker, and to be exposed to his unique rendition of the main pillars of our Emuna. Therefore it is our privilege to make these shiurim on the Mekoros of authentic Jewish thought, available to the public.